The most frequent question I get these days is, "is there gluten in gin?"
No, there is no gluten in gin.
For a TL;DR you could stop reading now. But if you still think that because there's Red Winter Wheat in your gin, that it has gluten in it, please read on.
The Celiac Disease Foundation states clearly, "distilled products do not contain any harmful gluten peptides even if they are made from gluten-containing grains. Research indicates that the gluten peptide is too large to carry over in the distillation process, leaving the resulting liquid gluten-free." [source]
How does distillation remove gluten?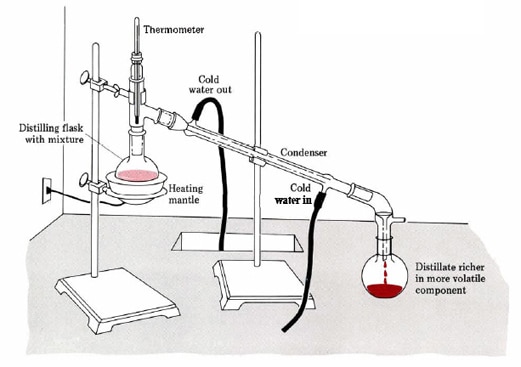 During distillation, the flask on the left is heated until the liquid begins to turn into steam. The steam then passes through a chilled tube called a condenser. The condenser turns the steam back into a liquid.
In short, are you afraid of gaseous gluten?
No, because gluten is not volatile. It cannot be evaporated. Therefore gluten cannot possibly end up in the liquid on the right hand side. The gluten proteins cannot be turned into a gas. In fact, the very act of heating them can denature/destroy the proteins. But more often in distillation it's left in one side of the still, and not the side that's turned into gin.
What happens to the grain in gin?
The grain is part of the stuff on the left. Distillers let bacteria eat the grain before it enters in the still. In doing so, they release ethanol as waste. That is what all spirits begins as.
The distillers puts all this grain into the still. They heat it to the point where ethanol (and water) evaporate. That's what ends up turning into liquid at the end.
When the distillation is done and the ethanol removed, many distillers give the used grain to farms where it can be used to feed pigs.
How come I can taste grain in gin?
Again, what you taste is what has been evaporated and re-condensed back into a liquid phase. What you taste are aromatic molecules which were present in the original grain. Unlike gluten, these aromatic molecules do boil.
If you miss the flavor of a grain, gin is safe place to taste that flavor with all of the gluten gone.
But I still feel sick.
This may surprise you, but alcohol is a stomach irritant.
Drinking any alcohol can cause bloating and if used excessively, it can damage the lining of the stomach.
In other words, even people who can eat gluten can feel this way when drinking.
I'm confused— but is there gluten in gin?
No, there is no gluten in gin. And there's absolutely no debate or discussion about it. It's fairly straight forward. The Celiac Disease Foundation finds the issue pretty cut and dry.
But it's easy to see why you're confused. There's a ton of uneducated people who don't understand how distillation or gluten works telling you things that are not true. This misinformation is everywhere, and it often goes unchallenged.
Being gluten-free is hard. I know, I started out as beer nerd over ten years ago. But I had to give it up. Because I too can't process gluten. In the last ten years, I've reviewed a ton of gins made from wheat, several gins distilled from barley, distilled from rye.
I'm gluten-free too. Not by choice. But I've chosen gin. There is no gluten in gin. I hope you too will choose gin.
TL;DR: There is NO gluten in gin.