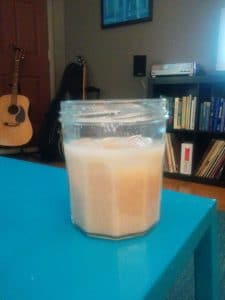 That's right – we're putting gin into drinks that are historically non-alcoholic. That's just what we do here in Gin-Central.
Struck by the tastiness of Gin infused Vanilla, and presented with a whole takeout tin of leftover rice, Horchata happened! How did it happen, you ask?
Well, like this:
Gin Horchata
This is based on the Mexican horchata – rice, milk, vanilla, cinnamon and copious amounts of sugar. I've altered it a bit because I was too impatient to soak the rice overnight, like many recipes I saw.
Ingredients:
1 cup Leftover rice – and I mean leftover. If you cook up a fresh batch, let it sit in the fridge for a few hours.
1 cup Rice Milk – optional. You can also use water.
4 cups Milk
1/2 cup sugar, or, to taste
Dose of Gin Vanilla, or just plain gin. Or, just vanilla, but c'mon.
Liberal amount of cinnamon
Hand Blender, or regular blender if you must
Pan that you can cook in, and ideally put in the fridge
Ladel
Serving cups
Ice
Method to the Madness:
Put most of the rice in a pan on the oven. Add the rice milk. Cook on medium, stirring often, until the rice milk is gone and the rice is nice and has a soft consistency. Remove from heat.
Add the milk, cinnamon, and gin vanilla, or just gin. Stir. Taste, carefully. Do you like the way it tastes now? It's a bit like drinking french toast. Add in the sugar a bit at a time, stirring constantly. Taste each time and stop when it's sweet enough. You are also welcome to use a different sweetener of your choice.
Wait for it to cool a little, then blender that up with the blender of your choice! It will be a thin liquid. Fear not.
You can cool the whole thing in the pan if you want, stick it in the fridge and whatnot. Or pour into your cups, then into the fridge. It needs about an hour to cool, and you might need to stir it up a little before drinking. It will be rich, thick, sweet, and with the taste of delicious gin. Yum!
This Horchata recipe endorsed by all those people I had over for dinner.