Hello friends! On this rainy Tuesday, why not come take a behind the scenes tour of The Gin is In? The drinks are always carefully measured.
Some people have a shelf for their liquor. Perhaps a modest bar.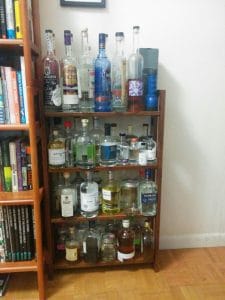 Some people have three book shelves. (To be fair, there's some tequila and a bourbon here. Plus your creme de violettes (4 types), spicy pear liquor, bitters, etc.)
Some people also fill up their entertainment centers. These truly are the luckiest people. (The birds are not alcohol. Nor are the games, as far as I'm aware.)
This is where the magic happens!
This is just the gin still life lying around. You know, to remind ourselves of the beauty of it all.
This is an average amount of citrus (and tomatoes) for the house. Scurvy is not a problem.
And this is Juan, the turtle! He says hello. And that he would like an Aviation, please.