Flavor Profile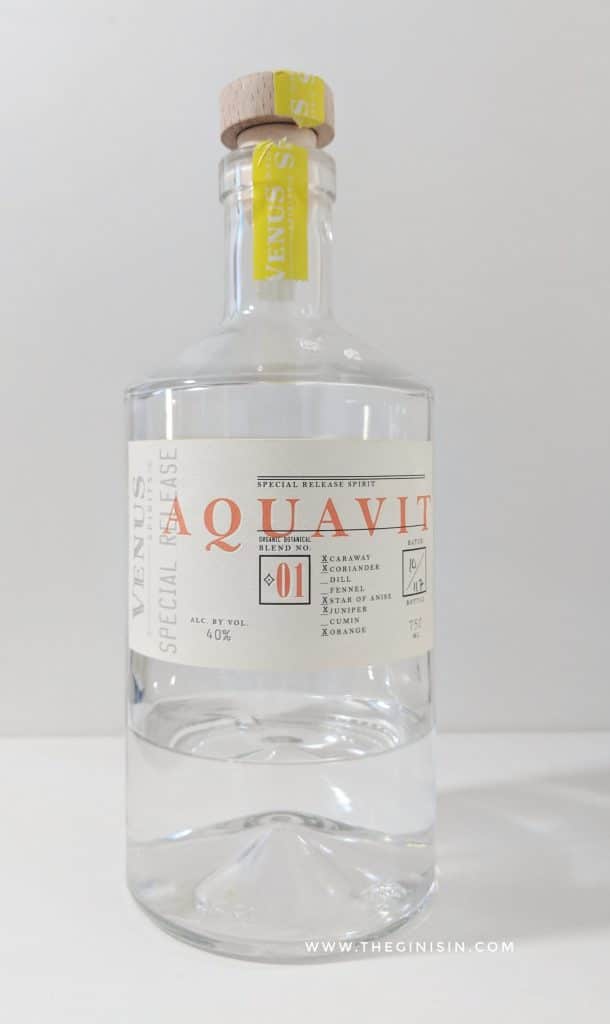 Venus Spirits Aquavit Blend No. 1 could rightfully be called a hybrid gin/aquavit. It includes juniper, coriander and orange prominently among its botanical blend. The first of which could almost technically make Venus Spirits Aquavit Blend No. 1 also a gin.
Venus Spirits Aquavit starts from a base of organic wheat. Batch No. 1 uses Caraway as its aquavit ingredient and prominently displays a check list on the front of the bottle as to which ingredients they've included.
We are reviewing Venus Spirits Aquavit Blend No. 1 Batch 10. 
Tasting Notes
It begins with a clear caraway-forward nose. Beneath that Venus Spirits Aquavit has sweet orange oil and a slight terpey note of pine. It's clear that the caraway is the star here though.
The palate exudes a bit more of that long oily orange zest adding a subtle sweetness as if an orange peel was just expressed over the top of your cocktail. But that note supports the heady, thick caraway note— it's bushy and becomes a bit more yeasty and bread-like as it sits on the palate. It almost suggests deli rye with a hint of horseradish root on the long warm finish.
That gentle pepperiness is what really stands out for me. It's piquant, slightly herbal and gently warming. Venus Spirits Aquavit Blend No. 1 has this cold winter evening feel about it, conjuring a notion of sipping a clear spirit by the fire.
Overall, Venus Spirits Aquavit Blend No. 1
Venus Spirits have hit a home run with their first Aquavit blend. Firstly, it showcases a different side of juniper berries. They have such a wide range of notes they can impart, and in this case, juniper is like a background instrument— it adds texture, complexity and fills in the gray spaces.
But ultimately, caraway is the star. Orange provides balance. And the peppery finish imparts warmth.
Highly Recommended. 
Awards