Flavor Profile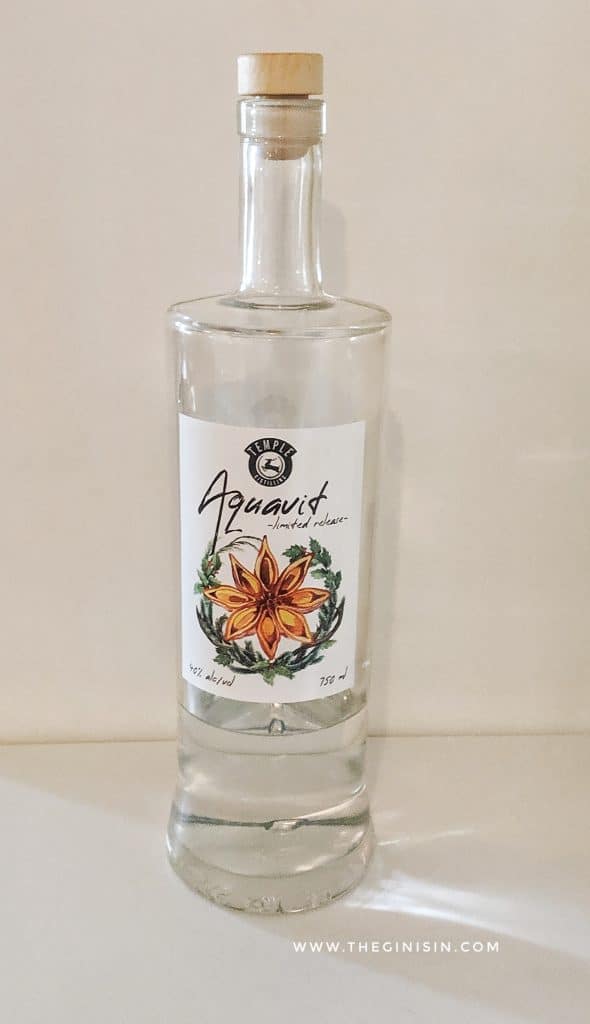 Aquavit has made its way to the United States en masse in the last few years. In 2010 there were zero American distilled aquavits on the U.S. market. Today there are over 60. Many distillers who have started making aquavit do so because of their cultural heritage. AJ Temple of Temple Distilling Co and creator of several very excellent gins, is of dual English and Swedish origin. Temple Distilling Aquavit is a seasonal and limited edition offering that celebrates that heritage.
Temple Distilling Aquavit is a taffel or clear style aquavit. Furthermore, it takes the Danish tradition of using only caraway for the signature botanical. Alongside that are star anise, grains of paradise and orange peel.
Tasting Notes
Most aquavit is drank chilled, especially as served at traditional Scandinavian toasts. Although I enjoy sipping it that way as well, cold tends to mute volatiles and reduces the amount of tasting notes one can get. Therefore, I get my tasting notes at room temperature.
Two of the botanicals come straight out on the nose. Nutty, slightly mentholated caraway seed combines with the sweet, bright anise note of star anise. The two are here in equal parts and lend Temple Distilling Aquavit a balanced nose.
On the palate, there's a delightful burst of bright anise character. Fennel seed and anise seed meld together early. It reminds me intensely of Springerle cookies, like my mom makes for the Christmas holidays. Mid-palate caraway comes through; however, it's not as dominating as in many other aquavits.
Orange makes for a nice background note. It hovers as if gently spiced with anise and clove. Grains of paradise lend depth though don't come through boldly as themselves. They kind of harmonize to create this spicy warmth.
The finish is quite long with a dominant anise character and a licorice root earthiness and mouthfeel.
Overall, Temple Distilling Aquavit
If you're a fan of anise, you're going to love Temple Distilling Aquavit. It's a beautiful blend of caraway and anise. Nicely blended and quite accessible, it's better described as a more contemporary style Aquavit than a traditional one heavy on caraway and/or dill.
Recommended.
Awards