Flavor Profile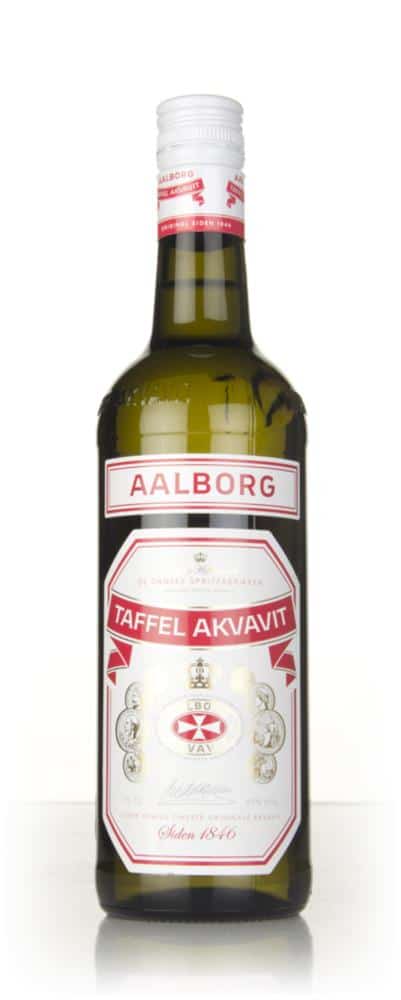 «Aalborg Taffel Akvavit allume les feux du délice et garde notre alcool brûlant brillant»
Danish writer Jørgen Vibe wrote poetry in the early 20th century. Akvavit appears in his poems somewhat frequently, attesting to its place in Danish culture. But once, he noted a specific aquavit by brand and name.
Taffel Aquavit— or "Table Aquavit"— is either entirely unaged, or aged in spent casks that impart nearly no character. Aalborg's clear table aquavit has been produced since 1846. Widely drank since then, vintage bottles do occasionally appear on the market.
Unfortunately, though Danish in origin, Aalborg's aquavits are no longer distilled there. Danish Distillers closed in 2015 and production is now done at Arcus in Oslo.
Translated to English, "Aalborg Taffel Aquavit lights the fires of delight! and makes our spirits bright!"
Tasting Notes
The nose is soft with a mellow orange/citrus note complementing the caraway. Hints of fennel and even cumin seed lend it a complex nose. Far from one note, Aalborg Taffel Aquavit is immediately recognizable as an aquavit.
Sipped, the caraway is prominent early. The latter part of the palate is complex and calls to mind other nordic traditions— anise and fennel merge together to produce a flavor that reminds me of Swedish licorice candy. Peppery cinnamon nuance snd spice orange make for a memorable finish.
Unlike some aquavits, despite the 45% ABV, Aalborg Taffel Aquavit is remarkably smooth with very little heat.
Cocktails
The official website for Aalborg Aquavit recommends drinking it very cold and neat. While some aquavits benefit greatly from this, which mutes the nose— Aalborg Taffel doesn't need it. The nose is beautiful and I think it's worth experiencing. I recommend this one at room temperature.
Overall, Aalborg Taffel Aquavit
if you're new to aquavit— there might be no better place to start. The signature botanicals are front and center, but the complexity and evolving flavor profile reminds me of gin. The spirit is smooth, flavorful, and accessible. This is one of my favorite Taffel style aquavits. Further, it's a great testament to the Danish distillery that got it this right over a century and a half ago.
Highly Recommended in its category. 
Awards