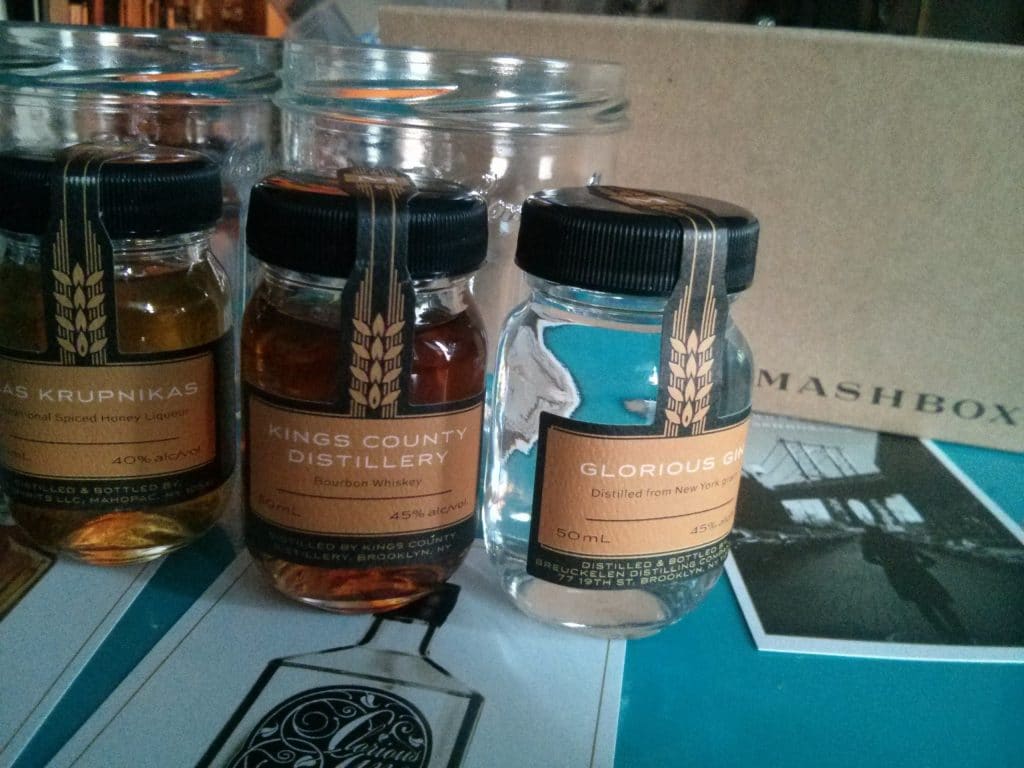 There's so many great spirits coming onto the market these days, if you're not a critic, how do you keep up? More importantly, if you don't live in the place where that spirit is distilled, how do you keep up?
Mashbox has the answer. Four times a year, they'll ship samples (50mL) of three spirits to your door and give you a chance to try something new, something cutting edge, something you can't get elsewhere. And they'll give you a discount on the full bottle if you fall in love.
Mashbox was so kind as to send me a sample of their first box. As a New Yorker, I'm actually quite familiar with the contents of their first box which is inspired by the Hudson Valley. If you follow us, we covered Glorious Gin () yesterday after getting a sample in the latest Mashbox. But today we'll do something unusual. We'll also talk about the other two spirits in the Mashbox. Spoiler alert: they're not gin.
The first inclusion is something which includes a lot of things familiar to gin drinkers: honey. There's gins sweetened with Honey like Barr Hill () and gins distilled from honey like Comb 9 (). Kas Krupnikas is an herbal spirit of Lithuanian origin that is strongly flavored with honey. Kas is the distillery, Krupnikas is the type of spirit. Flavored with an array of botanicals like vanilla, cinnamon, cardamom, caraway, cloves and saffron, Kas Krupnikas is then sweetened with honey.
[give_form id="7894″]
It's a clover honey bomb on the nose. On the palate, it's thick and quite sweet, but with a lot more going on than you might have thought at first. Warm spice notes come through, especially on the finish. It's complex and warming, and really overall quite nice. Its not something I would have likely bought on its own, but now I would consider it. Score on for Mashbox here, and the folks at Kas Spirits. I definitely recommend this spirit.
Kate (a.k.a. The Gin Wife) chimes in, "it's good, but I really think it would excel in a Hot Toddy or a high quality mixer or tea."
I don't formally give ratings to non-gins, but consider this a strong . I quite like it and easily would recommend it.
Next, Kings County Bourbon from Brooklyn distilled from local New York corn and Malted UK Barley, it's aged in New American oak. I normally tell people, "I love gin and I love bourbon, but since I'm always on when sipping gin, I drink Bourbon exclusively off the clock." My normal review on Bourbon when sipping among friends is "this is nice." So here's a rare analytical take on Bourbon, all for science, for science.
A slight hint of leather, some corn on the nose, the palate and flavor profile is smooth with hints of vanilla and a warm, pleasant grain-led profile. Less wood than you might expect, with a touch more grain. A bit of heat, fairly smooth with a short finish. My initial take is that it "tastes young," and indeed some quick research shows that it isn't aged as long as other bourbons. But for a young bourbon, it's actually quite good. Kate weighed in (being quite the aged spirits fan herself), "Barbeque on the nose, a little woody and tastes kind of young overall." I'd give it , with an excited eye towards what they do next.
And finally, the third spirit was Glorious Gin, which we covered elsewhere at length, but for those of you who aren't going to give me one more click, here's my summary:
Giving space for each of the five botanicals to show their stuff, you would be forgiven for being mistaking that there was more to it. Bright spice, creamy citrus, rich mouthfeel, piquant juniper. Glorious Gin's ascendance to the new classic status is well deserved. Fans of contemporary style gin will find a lot to like here with the citrus, in particular the grapefruit, and the herbal touch of rosemary. It's perhaps even better today than it was over five years ago, and it's worth checking out no matter what your gin tastes.
Final Thoughts
I love the little playing card style note sheets that Mashbox includes for each of the spirits. The box itself is handsomely presented, and the containers for each of the spirits are glass and nicely presented. In short, the details are really well attended to. You'll learn a little bit and enjoy some really good spirits.
My critique might be that this first box has a couple widely available spirits: Glorious Gin has a near global reach now. Kings County Distillery is available in the Northeast and the UK. Kas Spirits' products are a bit more niche, harder to find outside of the Hudson Valley and NYC and might be the only one that I would say is tough to get a hold of. I am in New York City, so I'll acknowledge there might be a bias that suggests the "Hudson Valley" isn't exotic. Perhaps you, reader from Phoenix or Vancouver might disagree.  They do ship across the US, so good news for those of you who don't have easy access to the Hudson Valley….
That being said, I am looking forward to what they do next. Mashbox has put together a good concept with a few good spirits– it's overall quite well executed. I think it would make a great gift for the holidays.
Subscribe and Learn more about Mashbox