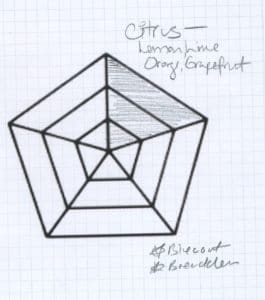 Back in 2012 when I began developing the Pentagon which would later become a Hexagon, The GIN is IN was a small blog with a readership of a couple thousand. I never saw the future of where we would be today. With nearly a million readers on a yearly basis, the GIN is IN has been a part of so many of your journey into juniper botanical spirits.
The pentagon was borne out of a desire to help me describe the gins I was tasting in the way that I heard everday people talking about gin. The way bartenders described gins to their clients; the way gin drinkers would talk about new gins with friends.
I always stayed true to sharing my opinion. But I didn't want a simple one to five star review to tell the full story. If you know what you like flavorwise, I want you to dicover new gins on your own that suit your personal preference.
And now I want to give back to the spirits community.
Distillers, bartenders, gin-aficionados: use this diagram to tell your flavor stories. Distillers use it on your bottles or in your marketing materials. Bartenders, use it on your menus to help describe your spirits as you expand your gin program. Liquor stores, help customers find new gins.
There's only a few rules. So please make sure to check out this page for more information. And furthermore, all of the resources you need to begin using it in your own work.