Tonic Water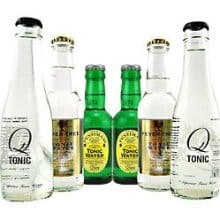 This is something we've never done before, but have heard from our readers that they would like to see something like this. We've reviewed quite a few Tonic Waters, but which is the best?
Or more appropriately, which do we think is the best at this point in 2012? Let's take a closer look. But unlike gin, we have some disambiguation in here. This list will contain syrups [which could use, but do not require soda water] and regular classic pre-carbonated tonic waters. So your mileage may vary depending on which you might prefer…
# LW 2W Title —
1 – –
Todd Thrasher's Tonic
If you've come around to Tonic syrups, then Thrasher's tonic is worth seeking out. One of the best blends of flavor, herbs and sweetness. An easy favorite for me this year.Review Quote: "I'd say many tonic syrups are for people who already love the taste of quinine and rich herbal concoctions. Thrasher's tonic, not so much. Its sweet, nicely balanced, and has an appeal that spans a wider array of drinkers."  2 1 1
Fever Tree Tonic
Perhaps the best of the pre-carbonated tonics in my opinion.