Gin Reviews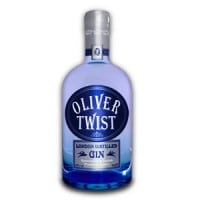 Simplicity and Novelty both have their virtues.
Simplicity can be a great introduction to spirit tasting for novices. With only a few ingredients thought and care can be put into picking out each one. Simplicity can often time shift the conversation to quality. Some gins have 30+ botanicals, but how can you tell if they're all good if at most you can pick out 10?
Novelty is what makes the recent gin explosion fun. Looking for a gin with Lavender? Dislike neutral bases and want to taste a gin made on the same thing as your bourbon? Prefer Nutmeg with your Cassia? This is the kind of adventure that brings you back again and again to gin.
But rarely do you find both in the same gin. Oliver Twist has only four botanicals: Coriander, Juniper, Angelica and Savory. Savory? Yep, there's your novelty. Though a nice match for many of the flavors in gin, its a rather rare ingredient.
Tasting Its a bit deceptive when you consider that there's only four botanicals in here. As I detect notes of sweetness on both the nose and palette that call to mind citrus.