Gin Reviews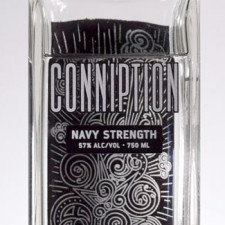 We've previously covered Durham Distillery's Conniption American Dry Gin, and much is similar. Distilled via a two step process in a German built pot-still, Conniption Navy Strength Gin still splits the botanicals into two batches for distillation (vacuum, and traditional) to maximize the aromatics expressed in the final product.
Like other Navy Strength gins, this one is bottled at 57%, giving it a bracing on its own character that is well suited to cocktail mixing. But more on that in a bit.
Tasting Notes
On the nose, coriander, resinous juniper, a touch of English cucumber  and a delicate hint of caraway towards the back end.