Gin Reviews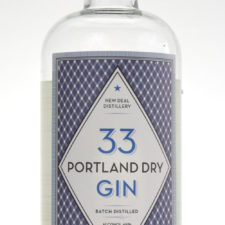 With unflinching focus on juniper, New Deal's 33 Portland Dry Gin uses copper trays for the berries in the distilling process. Furthermore, New Deal only uses Juniper Berries, heightening and tightening the focus botanically, while starting from a base spirit of locally grown Oregon wheat and finishing with the addition of local water.
The distillery is focused on the art of hand-crafted DIY spirits, with a bias towards local and organic in their ingredients.
Tasting Notes
Lovely, juniper and pine bough notes leap forward on the nose, but creamy hints of lemon and honey lie underneath, emerging among the low notes.