Gin Reviews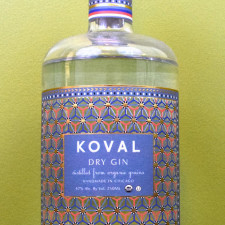 From a word meaning Blacksmith, Koval Distillery has been making spirits since 2008. Though perhaps best known for their whiskeys, their gin too is organic and grain-to-glass (and certified Kosher too). Embracing "woodland spices," conceptually it may not call to mind Chicago, nor Illinois; however, the care, the process and handsome bottle design suggest that well executed concepts can be of anywhere and still be a winner.
Tasting Notes
At first whiff, you certainly might think of open fields and meadows in blossom. It's warming and suggestively floral, with plenty of green juniper accompanied by rose, lavender, and vanilla notes.
The palate is creamy and rich, with juniper bringing some fresh pine and resinous notes, the florals really take blossom on the palate.